Candi Obrentz & RestoPresto featured on "This is it with Cheldin Barlatt-Rumer"!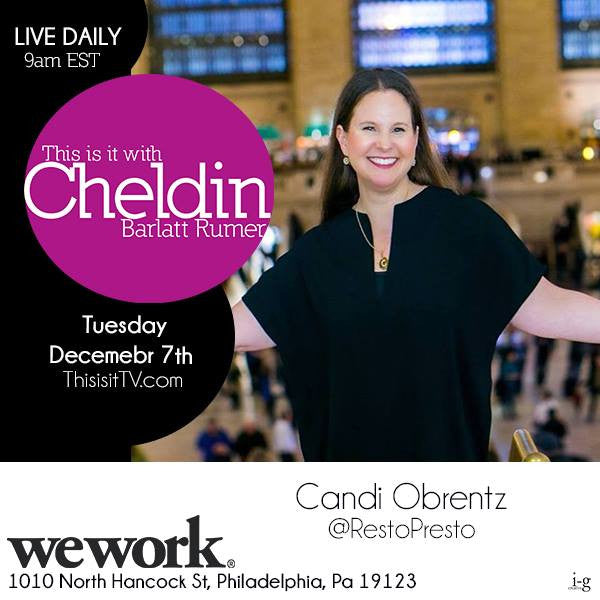 It was fantastic being on "This is It with Cheldin Barlatt-Rumer" on Tuesday the 7th of December at the This is it TV studio in Philadelphia.  
Cheldin's digital lifestyle show celebrates the spirit of entrepreneurship by featuring intriguing people, captivating places and emerging brands. I am honored to have been included in this innovative bunch! 
Here is a link to the interview AND "behind the scenes" photos! 

Candi & RestoPresto on This is it with Cheldin Barlatt-Rumer.


The quartet in the pic above is exuding entrepreneurial happiness! From left to right: yours truly, Avi Fox, Founder of Wild Mantle, Cheldin Barlatt Rumer, host of This Is It with Cheldin Barlatt Rumer and Santos Gonzalez, Founder of ManeStreem.com.

Avi creates cozy beautiful hooded scarves made ethically in the USA! Her company has a strong social and entrepreneurial responsibility as well. Santos is the inventor of an APP that provides an incredible service: hair, make-up, nails & massages delivered to your doorstep within 45 mins in Philadelphia! It's the Uber for beauty and wellness!

Please check out their businesses via the links! 
Leave a comment
Comments will be approved before showing up.